Last updated on 1st March 2021
Got a home loan? This is why you should also consider life insurance
Purchasing a home is a long term commitment – and an exciting one. When you get your keys to your new home, you're probably not even thinking about mortgage payments. After all, you've already done the hard work, so there's no way you're going to default on them, right?
But what if something were to happen to you? Perhaps you have an accident and can't work for a few months. Or get a serious illness, or worse. This is where life insurance can be a sensible purchase – it ensures that your family is protected and your mortgage repayments are taken care of in a worst-case scenario.
If life insurance is already on your mind, click below to get started with experts from our sibling company Life Insurance Comparison. Otherwise, read on…
Why do I need life insurance if I'm after a home loan?
If you've just completed or are comparing home loans, good work! You're obviously a conscientious and astute home buyer.
So given how conscientious you are about your home loan, perhaps it's time to consider smart ways to protect your family – and your home – in the event of illness, injury or worse.
Given you've trusted us with your home loan, why not let the Life Insurance Comparison team put in the hard yards to find the right cover for you.
Buying a home is the biggest purchase you'll ever make (unless you own a super yacht, in which case never mind, and we should be friends!). Mortgage repayments take up a large amount of your income, which is why it's important to calculate what would happen if you could no longer rely on your paycheck.
What's the difference between life insurance and mortgage protection?
You might have heard of mortgage protection insurance and lenders mortgage insurance. There's a lot of detail behind them, but at their heart, most mortgage protection policies will cover your home loan repayments in the event of illness, injury, death or unemployment, either as regular instalments or as a lump sum.
That's useful, but there are still other bills left on the table which need to be paid. This is where life insurance may be a better option.
It isn't directly linked to your home loan and offers protection beyond mortgage repayments if you're unable to work through illness or injury or pass away (and will even cover funeral costs).
What are the different types of life insurance and how might they help me protect my home and family?
Life insurance offers more than just a payout should you pass away. In fact, different policies also protect you and your family against income loss, trauma and disability.
Here's a quick guide – you'll quickly see they'll cover more than just a mortgage, but make sure there's still money available to pay your mortgage and other bills in worst-case scenarios.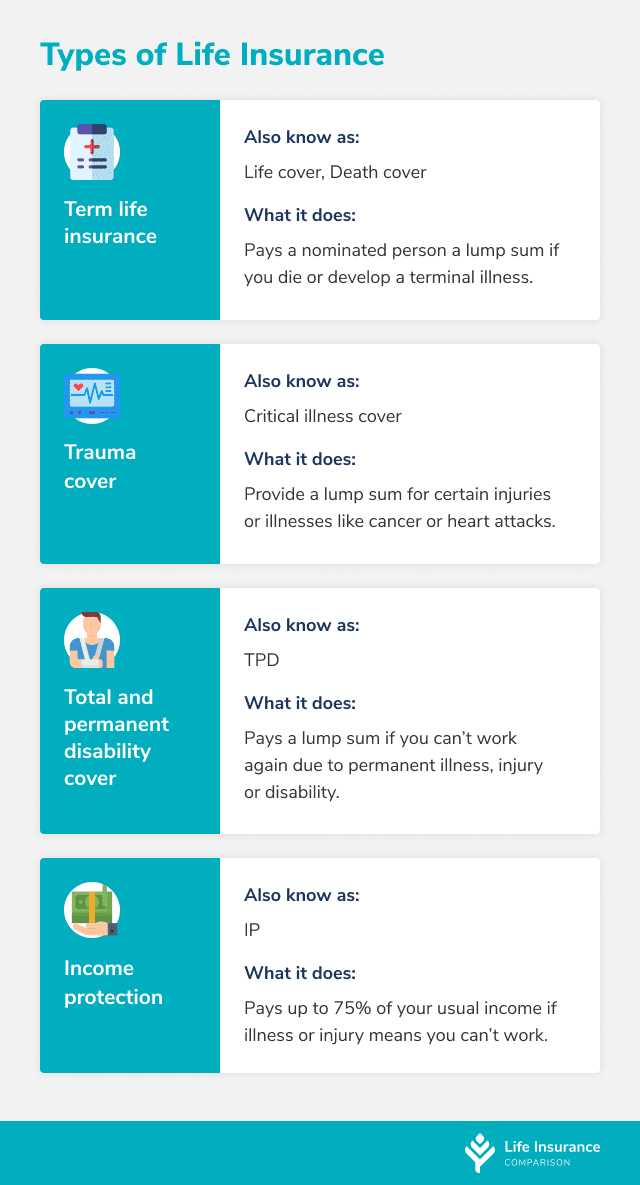 How much does life insurance cost?
Everybody will have different needs and, naturally, different costs but there's a number of factors that can affect your premium. These include:
Age
Medical history
Smoking status
Occupation
Listed hobbies
The amount of coverage required
Features and add-ons
That said, the relevant life cover can be surprisingly affordable. As we say everybody's different, but if your premium is at the lower end of the scale, it's equivalent to the cost of one family takeaway meal per week.
You can find out more about life insurance costs in Life Insurance Comparison's comprehensive guide.
How do you get life insurance?
Firstly, it's important to begin by exploring your options, as features and prices can vary between providers.
That's where the team at Life Insurance Comparison comes in. They're experts in comparing across a range of insurers and finding cover options that are suitable for your needs — all free, online and with zero markup.
Ready to protect your future? Head to Life Insurance Comparison on 1300 904 624. And if you've not yet compared home loans, click below to get started.
Get Started Now:
Step 1: Select your State below.
Step 2: After answering a few questions, you will have the opportunity to compare quotes in your area and could be eligible for significant savings.
This article is opinion only and should not be taken as financial advice. Check with a financial professional before making any decisions.