Last updated on 2nd March 2021
Why borrowers are ditching the banks for boutique lenders instead
It's not been a great couple of years for the banks.

In 2017, the Royal Commission into Misconduct in the Banking, Superannuation and Financial Services Industry began. The findings were shocking. In 2018, every journalist was shouting it from the rooftops.
And now in 2019, further misfortune abounds.
New data from an online mortgage broker has revealed that borrowers are increasingly turning to smaller lenders with more competitive rates.
Is it any wonder? Not only has trust in the Big 4 been wounded. But Aussies are hungrier than ever for a better deal.
The recent findings show that this is something boutique lenders may be able to offer far better than the banks ever could.
Here's How You Do It:
Step 1: Select your State below.
Step 2: After answering a few questions, you will have the opportunity to compare competitive rates and could be eligible for significant savings.
Online-broking platform, Lendi, found that the proportion of borrowers opting to go with the big banks plummeted in the first half of this year.
Only 24 percent of borrowers using the platform went with one of the big four between January and June, a six per cent drop from 2018. 
Shockingly, it was found that over the same period, the big four charged more interest than other lenders. The big four also only reduced rates by half as much as the rest of the 37 lenders on Lendi's panel.
But that's just one company's word.
There are in fact plenty more reasons why a boutique lender could be your best bet.
5 great benefits of using a boutique lender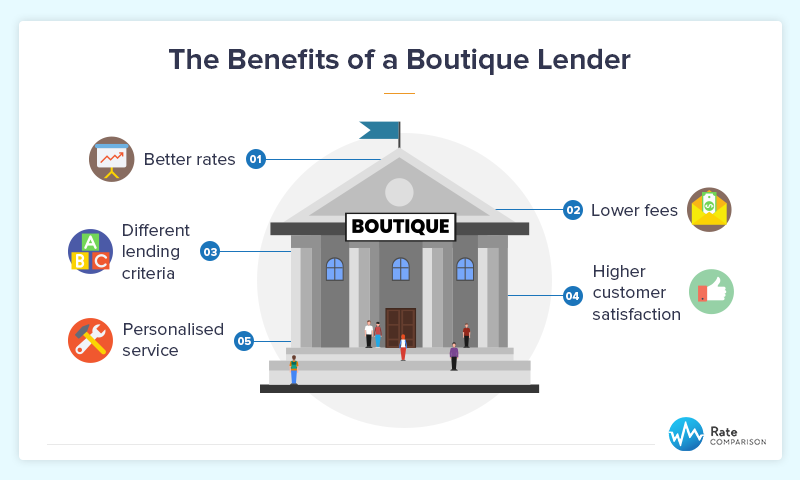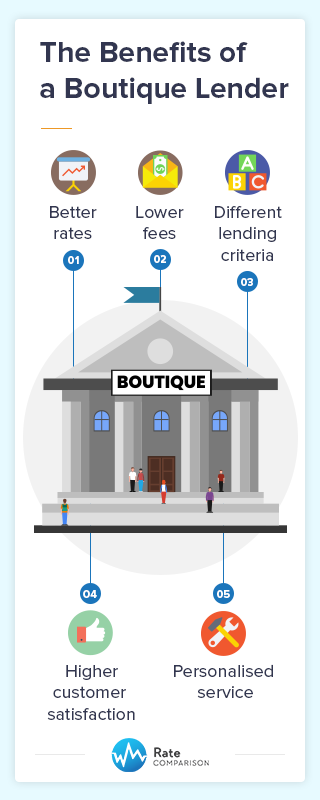 There are two main types of lenders: the major banks (otherwise known as "the big four"), and tier two lenders (non-bank and smaller companies.)
If you've been shopping for a home loan for a while now, you may be wondering which is the better type of lender to go with. 
It depends on your priorities. Some borrowers feel a sense of security in the brand legacy that many of the banks have. Strong branch networks, optional in-person service and a large customer base are other features of a banking lender that may or may not be important to you. 
Boutique lenders may be smaller, digital-only or newer onto the scene. But this doesn't mean their products and offerings can't pack a punch. As lenders, these companies still must adhere to responsible credit-lending standards as well as the relevant legislation. 
To compete with the big banks and entice customers from their market share, these boutique lenders are creating an unbelievable amount of value. Depending on which lender or product you choose, this value may look like:
1. Better rates
To stand out from the crowd, boutique lenders often offer extremely low interest rates. This can help to lower the overall cost of your mortgage.
2. Lower fees
One strategy boutique lenders use to compete with the big banks is lowering fees. If you're looking for a low or no-ongoing fee loan, you may be more likely to find one with a smaller lender.
3. Niche lending offers
After the devastating findings of the Royal Commission, the big four banks were required to adopt stricter lending standards. As a result, getting a loan on your own terms could be difficult right now if you're going through a bank. Your application may even be rejected. But smaller lenders provide a wide variety of additional options, and haven't been subject to the same degree of limitation as the bigger banks since the Royal Commission.
4. Higher Customer Satisfaction
More and more customers of boutique lenders are reporting high levels of satisfaction. And a recent study from research firm Roy Morgan found that the most satisfied home loan customers were not with big banks. This could be due to a number of factors. Boutique lenders may be more capable of offering better value loans, but they also may be more adept in providing proactive customer service.
5. More Personalised Service
Smaller lenders rely on good reviews and word of mouth to grow. They are often young and competing with many other bigger players. One way of achieving success is to deliver note-worthy positive customer experiences. That means that if you go with a smaller boutique lender, you may enjoy a more personalised service, more helpful advisers, faster solutions and more flexible packages.
Which boutique lender should you choose?
If you're excited about exploring your options with a boutique lender, you may be wondering about where to start. It can be an overwhelming task to try and compare them all yourself.
Why not let Rate Comparison do the heavy lifting for you? We can help you find a lender who ticks all of your most important boxes, whether that's low rates and great features, or minimum fees.
Simply enter your postcode to get started, and we'll trawl our extensive panel of lenders for you!
Get Started Now:
Step 1: Select your State below.
Step 2: After answering a few questions, you will have the opportunity to compare quotes in your area and could be eligible for significant savings.
This article is opinion only and should not be taken as financial advice. Check with a financial professional before making any decisions.