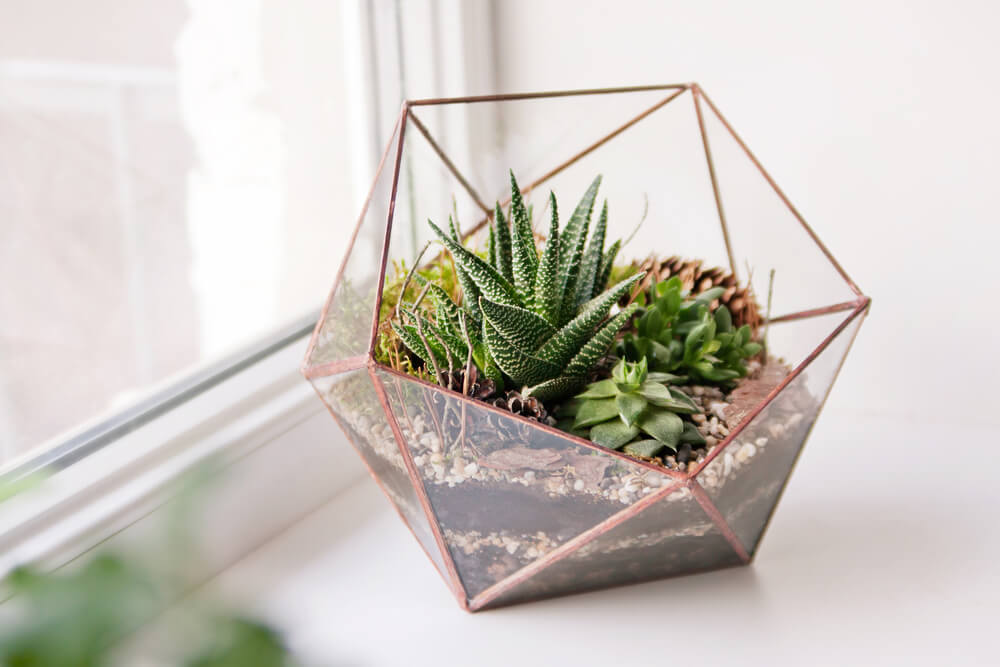 Bunnings is the king of DIY, so why not give a few of our favourites a try? We've handpicked 4 projects that you'll love—to give your home that edge. And everything you need to get started on your chosen Bunnings DIY can be found at—well—Bunnings!
Let's get straight to it:
1. Build Your Own Succulent Terrarium
Succulent terrariums are beautiful and fun additions to any living space. They make great decorations for outdoor entertaining and add a little bit of nature to any room in your home.
Terrariums are on the trending edge of home décor and are extremely easy to make!
Supplies
Terrarium

Small Rocks
Potting Mix
Small Succulents
Directions
Place about an inch of small rocks at the bottom of your terrarium for drainage.

Cover the rocks with potting mix. Stop the potting mix about an inch below the lowest point of the rim of the terrarium.

Plant succulents (as many or as few as you'd like!)

Feel free to add a small layer of rocks on top of the soil for aesthetic if you like.

Place your new succulent terrarium garden indoors near a window or outdoors in an area that won't take on direct rain
2. Plant a Ladder Herb Garden 
Herb Gardens are a perfect addition to any backyard space. They look great, add a bit of fragrance to your yard, and provide you with fresh herbs whenever you need them!
And another good thing about herb gardens is that you can customise them to fit your personal style. Again, they're super easy to make in the comfort of your own home. 
See these instructions for how to make a herb garden using a ladder.
Supplies
Wooden ladder

Metal buckets

Butcher hooks

Drill

Small rocks

Potting mix

Herbs or herb seeds
Directions
Drill small hole in the bottom of your metal buckets.

Add about an inch of small rocks to the bottom of the metal buckets for drainage. Make sure that the rocks are larger than the holes.

Add potting mix to the buckets. Stop the potting mix about an inch below the lowest point of the top of the buckets.

Transplant herbs or plant seeds in buckets.

Hook butcher hooks onto the handles of the buckets and latch them onto the steps of the wooden ladder.

Set up your ladder herb garden in a place where it will get plenty of sunshine. 
3. Kitchen Bench-Top Transformation 
Kitchen renovations can be very expensive! But there's no need to spend tens of thousands of dollars when you can transform your kitchen with this simple Bunnings DIY.
This is one of our favourites:
Supplies
Rustoleum Kitchen Benchtop Transformation Kit

Masking tape

Paint brush

Painting trays

Paint rolling frame
Directions
You will find the specific instructions for the bench-top transformation in the kit, but here is quick overview.
Clean your bench-top.

Sand your bench-top.

Remove debris from the sanding.

Tape off the area around your benchtop so you don't get paint in undesired areas.

Paint your benchtop.

Add coating to your bench-top.

Remove the tape.

Allow the cure to dry for 48 hours.
4. Bathroom Tile Rejuvenation
After kitchens, bathroom renovations are generally the most expensive. But again, why spend a fortune when you can DIY yourself into some great upgrades?
With a few cheap products from Bunnings, you can turn your outdated tiles into a sleek, modern-looking feature and save thousands on a back splash or floor.
Try it out!
Supplies
Tile Cleaner

Tile Primer
Tile Paint
Sand paper
Directions
Clean your tiles using the tile cleaner.

Sand down your clean tile space and wipe off any debris.

Apply the tile primer to your clean, sanded tiles.

Once the primer dries, paint the tile in your desire colour and pattern.
And there you have it! 4 simple Bunnings DIY projects that will make a huge difference to your living space.