Aussies are spending too much time behind screens and indoors. A recent study showed that we spend 8 times more hours behind screens than with loved ones!
Spending time with the people we enjoy is not only fun, but it's good for our health. And, spending time outside gives us the fresh air and sunshine we need to stay happy and refreshed.
What better way to combine these two life necessities than to make your backyard a place where people will love to hang out!?
Try these simple backyard DIYs and make your place the new meet-up spot!  
Lemongrass as a Natural Mosquito Repellent
In order to spend time in your backyard, it has to be a comfortable place. And nothing is LESS comfortable that being surrounded (and bitten) by bloodthirsty mosquitoes!  
They are the worst!
Help make your backyard mosquito-free by planting lemongrass. Buy mature plants from your local nursery or order them online. Plant them around walkways and seating areas in your yard to help repel mosquitos.
If you can't find a whole plant with roots, buy mature lemongrass from your local grocer. Lemongrass is a staple in many Asian dishes and should be easy to find.
Remove any dead parts from the plant and place it in a clear jar of water on a sunny windowsill. In a few weeks, it will start to grow roots and can be transplanted to your yard.
Bonus: Not only will lemongrass help repel mosquitos, it also smells wonderful, looks beautiful, and can be used as a flavouring for food and tea!
Multi-person Pallet Swing
If you have a sturdy tree in your backyard, use it to hold a pallet swing! Pallet swings are easy to make:
     

Get a pallet that is in good condition

     

Sand it

     

Paint it

     

Loop two long, thick sections of rope around two ends of the pallet

     

Secure the tops of the ropes around a strong tree limb
Inexpensive and easy! And also, fun for all of your guests – no matter their age!
Planter Night Lights
Adding planters to your backyard is always a great idea. They give your space some colour, style, and help you include flowers and greenery that you can move around as you model and remodel your space.
So how can you make planters even better?
Paint them with glow in the dark paint!
Glow-in-the-dark planters will be beautiful and festive in the daytime, and they will light up at night – giving your backyard a low maintenance, no electricity, fun light source for your evening meetups.
Waterproof Placemat Pillows
Throw pillows add pizzazz and a customised touch to your indoor furniture – why not use them on your backyard furniture as well?
Of course, you can't just take your favourite pillows from inside and move them out into the elements. They would be ruined in no time – and we know that throw pillows are not cheap!
Instead, create some simple DIY pillows for your backyard space.
To do this, get two inexpensive placement mats. It's best to use placement mats with two layers, but any that have a design you like will work. Have the mats face each other so that their decorative sides touch. Sew three of the sides together and then flip the mats to expose the decorations.
Next, stuff the pillow and sew it closed. Spray it with some fabric waterproofing spray, and let it dry.
Once your pillow(s) is dry, you can put it to good use accenting your backyard furniture and impressing your guests!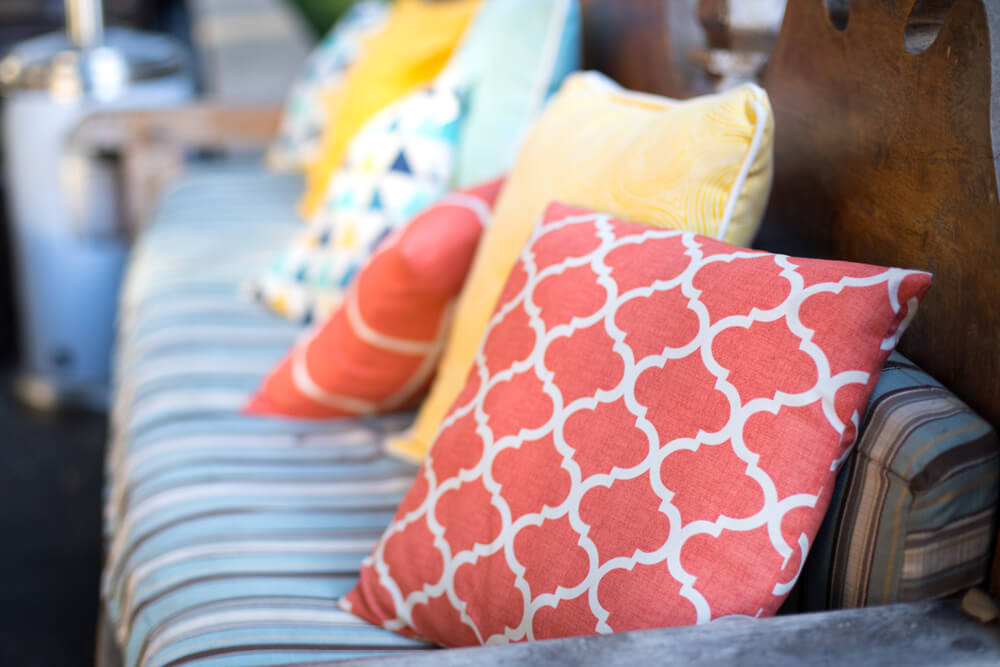 Painted Garden Stones
River rocks and other stones are versatile and beautiful landscaping products that are a great addition to just about any yard.
Make river rocks fit your custom theme for your backyard by painting them. You can paint stones a solid color, with stripes and dots, or with elaborate designs.
Use them as your canvas and show off your creativity!
Wine Bottle Tiki Torches
If you're like us, you may generate an empty wine bottle every now and then. Instead of throwing them in the recycle bin, save those bottles for some fun, attractive, and useful backyard DIY.
Wine bottles make excellent backyard tiki torches! And, you can fill these torches with regular or bug repelling torch oil!
Click here for step by step instructions on how to make your own wine bottle tiki torches.
You can also DIY a hanger to install them on your fence or simply set them on your table.
Rope Lighting Walkways
Well-appointed touches of light are an elegant addition to a backyard. But often, people feel like they need to call in a professional to install lighting.
That is not the case!
You can install professional looking lighting to line your garden or walkways by using rope light. Rope light is inexpensive, comes in a range of colours and lengths, and is waterproof!
You can also have your rope lights run on a timer to add some extra fanciness to your backyard space!
Chalkboard Fence Mural
Privacy fences are great! They give your yard privacy and help you create your own escape outside of your normal surroundings.
But, privacy fences can be boring. Add some life to your privacy fence (and your backyard parties) by painting a section of your fence in chalkboard paint.
Keep some colourful sidewalk chalk in a waterproof container near the painted fence segment and let your guests – young and old – contribute to your ever-changing fence mural!
Cinder Block Bench
All backyards need seating space for entertainment. You could spend hundreds of dollars on additional space for your guests, or you could DIY seating for a fraction of the cost!
With some cinder blocks, plywood, cushion, and fabric, you can create a beautiful custom bench that provides seating for all of your guests!