Adding a deck to your house can seem like a massive undertaking. It will add value to your home, but is it more work than it's worth? You may even consider hiring a construction team to complete the job for you.
Before you get on the phone with builders, take a look at our guide. Building a deck is a project you can likely complete on your own with very little experience.
Don't spend extra money hiring a team to build a deck for you. Take the time and learn the process of constructing it DIY style.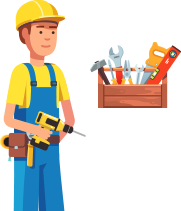 1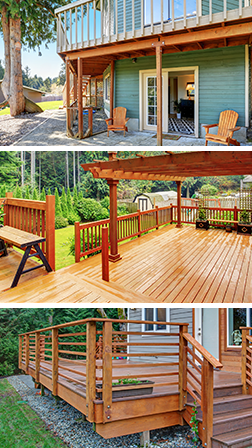 Plan Your Design
Before you start gathering the materials and tools for your new deck, you have to plan it out. Do you want a raised deck? Ground deck? A deck attached to the second floor
All of these specifications will determine what kind of materials you will use and the process you'll need to complete. Once you look at your design and the steps you need to take, you might decide to make a change from what you originally wanted.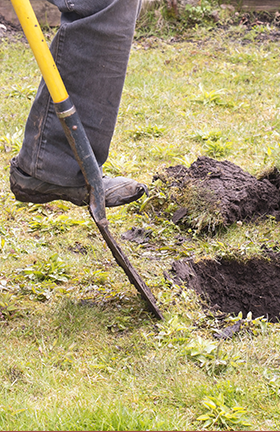 2
Create Your Base
Creating a stable base for your deck is one of the most important parts of the process, so take care during this step.
Make sure to check your local building codes for any special requirements before you start.
How deep you need to go will depend on where you're building and how high the deck will be. You probably need to go below the frost line – unless you are creating a freestanding deck.
3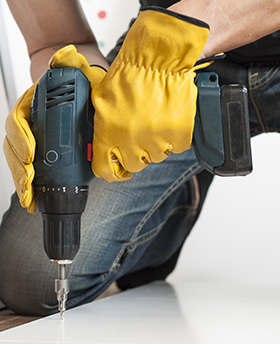 Set the Ledger
Setting a ledger is another essential safety step in creating your deck. You need to ensure the deck is stable and level – especially if you attach it to your house.
Attach a large, secure board to your house as the starting point for your deck. The location will depend on what kind of a deck you aim to build.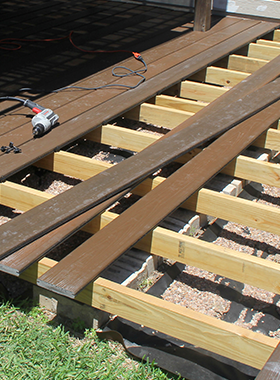 4
Create Your Frame
Your frame is the complete support of your deck, so spend extra time measuring it accurately and fastening it well. Check your local building codes for regulations here as well.
Your frame is the complete support of your deck, so spend extra time measuring it accurately and fastening it well. Check your local building codes for regulations here as well.
5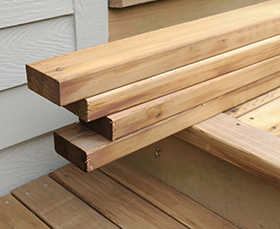 Select and Place Your Boards
Now it's time to place the boards that will become your deck. Try to find the highest quality boards in your price range. If you try to get a discount here, you'll have to replace them down the line.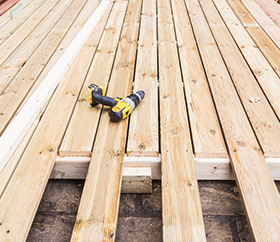 6
Space Your Boards
You can't place your boards flush against one another, as they will expand over time. Purchase some spacers to place in between the boards to make sure they're even throughout the deck.
7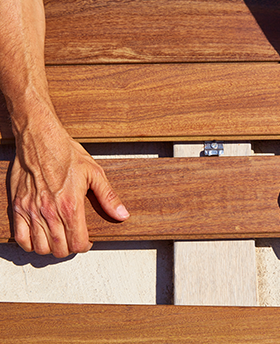 Fasten Your Boards
You have several options when it comes to fastening your boards to the frame of your deck. You can choose visible fasteners if you don't care that they show. This is one of the easier choices of fasteners.
You could also decide to use one of the seamless options if you don't want your fasteners showing.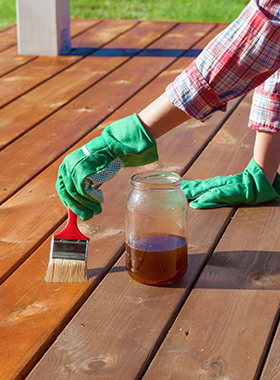 8
Finish Your Deck
Once you've completed the building process it's time to add a protective finish to your deck.
Check your wood's specifications before adding the layer, though, as they might recommend waiting a few months.
You will still have to clean and reapply the finish every few years, so the deck maintains its colour and durability.
Additional Tips
Building a deck for your home isn't easy, but it's certainly a project you can complete on your own. A lot of the specifications will depend on which kind of a deck you're aiming to build, so we compiled a short list of some general tips any DIY deck builder can use.
Learn Your Local Building Codes
Local building codes can be a backbreaker if you don't observe them before you start building. These codes are designed to keep everyone safe, but they can lead to a massive headache if you disregard them – especially when it comes time to sell your home.
Take a look at these codes before you start so you know if there is any regulation on how big or high you can build. Apply for a permit if you need to – that way you won't have to delay the building process at all.
Maintenance-Free Materials
You likely want to add a bit of flair to your deck once you complete your build. Take a look at some of the maintenance-free options to save you time down the line.
You can add some maintenance-free balusters and deck posts to give your deck a modern look without spending time cleaning and caring for the additions every few months. These options are affordable and widespread, so you won't have trouble finding some you like.
Cutting Your Boards
We didn't include this section in our guide, but you'll likely have to cut excess wood from the end of your boards once you fasten them in place.
You'll need to draw a line and cut them evenly, but there's a trick you can use to help you. Use a board to guide your circular saw as you cut to ensure you have straight, even boards at the end of your deck.
DIY Deck Building
Building a deck is a fantastic DIY project. It will take time, but it's cost-effective, and if you complete the process the right way it will add value to your home and a place to enjoy the beautiful summer sun. What's more? Right now is the perfect time to build your dream deck – the weather is set to start warming up in a few months.
So get your gear together and enjoy next summer in the yard with a cold beverage in hand and your very impressed family and friends.
Need more tips and tutorials on DIY projects that will add value to your home? Take a look at our blog!