Last Updated on 2 March 2021
Buying Your First Home? Read This First!
---
Buying a new home? How exciting!
Nothing quite compares to the anticipation of dreaming, looking, and finalising the purchase of your first home. This is a wonderful time in your life! As you contemplate all the choices you have for a first home – a contemporary condo, attached two-level home, ranch style with lots of land, or city dwelling with a courtyard – it is a good idea to keep in mind the many financing factors involved in purchasing a new home. Make your decisions wisely. Purchasing your home should never be an emotion-based endeavour.
Too often, first time home buyers find the home of their dreams, only to realise it is out of their reach, usually due to unplanned parameters being set and a lack of education in home loans. After reading this article, you, the wise and knowledgeable first-time home buyer, will be prepared to ask the right questions and make intelligent decisions. Do this, and you can fall in love with the little fenced cottage on the tree-lined lane, while still affording your ideal lifestyle.
Key Points
Many advantages exist for first-time home buyers, including First Home Super Saver contribution allowances, State Grant options, and Stamp Duty concessions, making it easier to afford.
Educate yourself on mortgage loans – learn where you stand on:

Capacity – can you pay back the loan?
Character – stable or risky habits?
Collateral – amount of your cash deposit can be variable
Condition (or Credit) – your loan to value ratio (how much you earn compared to how much you owe)
Common Sense – are you a good risk for the lender?

Calculate the extra expenses, including Stamp Duty, insurance, house inspection costs, and utilities. Any possible renovations to the home should be tallied in as well.
Can I Afford Mortgage Payments?
It's hard to believe what you pay in rent per month can actually equal as much as a mortgage payment. While home costs have been fairly consistent over the last 4 years, rental costs have increased, leaving renters discouraged. Compare your rental costs below and see how you might fare when considering a new home purchase.
If Not a Home, Maybe a Unit?
There are several options involved when purchasing a home, and we are happy to say, many have proven to make the difference between purchasing and walking away. You may want a home in a very popular area where choices are few; if so, perhaps an Auction may be an advantageous way to purchase. If you see a particular piece of property you love, though can't afford to build, a Buy Now Build Later plan could give you the time you need.
The number of first-time home buyers in Australia continues a downward trend, keeping lenders a bit more attentive when approving buyer's requests. The interest rates are fairly level, which is also good for buyers. This provides more options when looking for a home. As rental rates increase, more people are looking at the option of buying. Keep an open mind and consider everything.
The 5 C's Lenders Consider
It will be well worth your time to know these facts before you apply.
Your loan is not the only cost you will have when purchasing. The following is a partial list of considerations you should add into the equation for an accurate estimate of costs. These costs will not be added on to your loan and will need to be met at the time your property settles, or shortly afterward. Be aware of them and make sure you are prepared.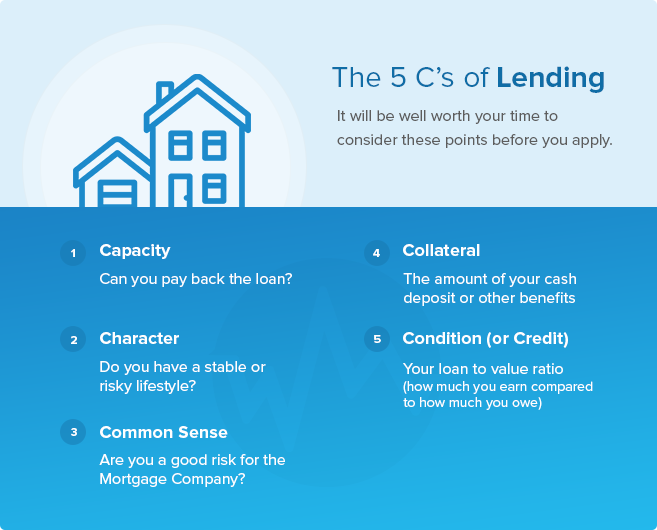 Conveyance and Legal Fees average around $1900, and may be worth the price if you'd like legal help or want advice on the drawing up of the papers.

Home Inspections are always suggested as they can alert the buyer to needed repairs or problems, and are particularly smart when purchasing an older home. These inspections can reveil infestations, faulty plumbing, or deteriorating structures. Costs range from $500 to $700.

Mortgage Registration and Transfer Fees are the buyers responsibility. Both are based on location, with Mortgage fees ranging from $100 to $200, and transfer fees having a broader range of variance.

Loan Application or Establishment Fees are the costs for the application and setting up of the loan. Fees can be $500 to $600, but may be more. Many lenders waive this fee, so it is a good idea to shop around for your lender.

Council & Utility rates are determined after purchase, and include council and water rates which have been paid. Typically, they're covered to the end of the quarter.

Stamp Duty is a property tax and is calculated by the state you live in and the cost of your home. Your residency status is also a factor. Each state calculates the cost differently. Please read more about Stamp Duty below…
Benefits of Being a First-Time Home Buyer
The time couldn't be better for a first-time home buyer. Home prices have leveled, but the incentives to purchase have increased substantially. Options for you include:
| | |
| --- | --- |
| State Incentives and Grants | All states currently have First-Time Home Buyer incentives in place to help raise cash deposit amounts, making a purchase more affordable. Some of these contributions are as large as $26,000 though most range from $7000 to $15,000. |
| Stamp Duty Concessions | Also being offered by states are concessions on Stamp Duty and these are based on the purchase price. A first-time home buyer in Victoria, for example, would be fully exempt from stamp duty if purchasing a home valued at less than $600,000. Quite a nice offering and well worth checking out! |
| First-Home Super Savers | The Australian Government introduced an incentive last year for first time home buyers, helping to make home owning affordable. By allowing adults to make a voluntary concessional (before-tax) and/or a non-concessional (after-tax) contribution to their super fund, up to $15,000 per year per person, savings can be made at a faster rate. You can use these funds, along with your associated earnings, to buy your first home, putting your investment 'fund' into your home (equity). |
| Lenders Mortgage Insurance | If you don't have 20% for a cash deposit, Lenders Mortgage Insurance (LMI) may be offered by your lender. This guarantees the lender's position if you default on your loan. Its cost is paid by you. Contributing factors are purchase price, percentage of cash deposit you have, and other collateral available. |
| Auctions | Purchasing your home through an auction is another option. It does have preparatory documents which need to be filed prior to the auction. Requirements vary depending on the seller and state, but purchasing by auction could reduce your commitment considerably. |
| Family Guarantee | Though not common practice, a family member can back your loan. A Family Guarantor uses their own homes' equity as a 'guarantee' to cover the cash deposit difference between what you have and what is needed. Once your payments have reached the price of the Family Guarantee amount, it is considered paid off and is removed from your loan demands, as well as theirs. This may also reduce or alleviate the LMI. |
Feeling great about the purchase of your new home? You should! Many people are now experiencing their dream of home ownership. If you'd like to compare rates, click here. It's time to consider making your home-owning dream a reality!