Last Updated on 7 December 2020
Comprehensive Guide to Construction Loans
---
Finding your dream home can be tough, but construction loans can help. Buying an existing home means investing in all of the unseen problems the house might have, and it's impossible to know exactly what the previous owners neglected.
For these and other reasons, some Aussies opt to build their own houses. These projects usually require construction loans, which are different from standard home loans.
This guide will tell you what you need to know about construction loans and how you can feasibly finance building a brand-new home.
Key Points
Construction loans don't work like regular mortgages. Lenders release funds in stages rather than all at once.
The application process for a construction loan requires additional documentation – especially if you plan on building the home without the help of a professional.
You can use construction loans for major renovations, but they aren't always your best option.
What are Construction Loans?
Construction loans are short-term loans that fund the construction of the borrower's new home. Borrowers can use the funds they receive from the bank to build a house from the ground up or make major renovations on an existing property.
Construction loans work differently than regular mortgages. Instead of giving you a lump sum you can use to purchase a new home, the bank provides funding as you need it to progress the project.
This is also referred to as a 'draw down,' as the funds are drawn down in line with the phases of construction.
Your construction plans, budget, and the eventual value of your home dictate how much money the bank will allow you to borrow. Most construction loans begin as interest-only mortgages before transitioning to principal and interest.
Once construction on your new home is complete, construction loans usually switch to a traditional fixed or variable rate mortgage.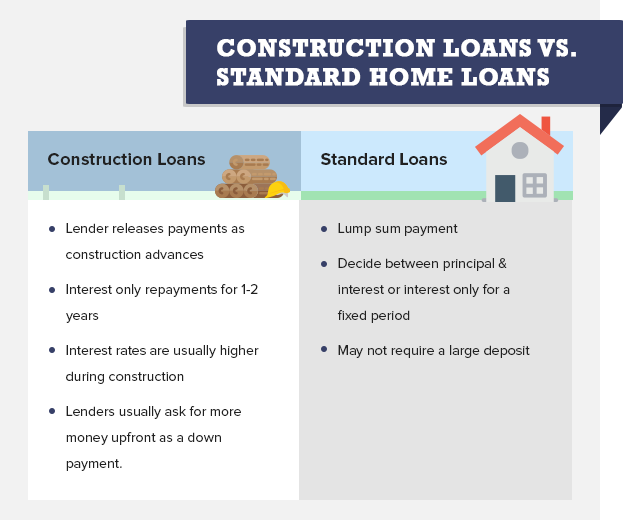 How Do Lenders Release Payments?
As we touched on above, the lender releases funds in stages during construction of the property. There are five stages to building development, and each benchmark signifies it's time for the lender to provide more funds so construction can continue.

Lenders release a certain percentage of your loan during each stage – in accordance with your building plans and budget.
A lender will only charge interest on the payments they've already released. If you have a $400,000 loan, you won't accrue interest on the full amount until the job is finished.
You can only access additional funding once you've used all of the money from the previous stage. If you're under budget by stage three, you'll have to use all of your stage two money before the lender releases more.
Lenders also usually send someone to check up on the property before releasing more funds. This helps ensure all the work is up to the lender's standard.
How to Apply for a Construction Loan
The application process depends on whether you plan on hiring an external builder or are building the home yourself.
The latter option requires more paperwork and can mean more risk for the lender. Financial institutions may not be willing to finance construction that isn't being carried out by a licensed builder.
Hiring an External Builder
An external builder will be able to complete housing plans that you can submit to the bank, and give you a rough estimate of how much the building process will cost.
The rest of the application process is similar to a traditional home loan. You will need to pay a deposit, show financial security, savings, and the rest of the documentation any standard loan requires.
An expert at the bank will review the application and evaluate how much the property is likely to be worth when construction is completed.
Owner-Builder
Lenders are often reluctant to provide funds for owner-builders since they may not trust their ability to stick to their budget and timeline.
Chances are, you'll have to pay a higher deposit as an owner-builder to give the bank peace of mind that you'll finish the project and pay them back.
You'll also have to fill out more paperwork if you decide to build a house on your own. The lender needs to see permits, licenses, cost breakdowns, schedules, insurance, invoices, and more for them to approve your loan request.
What About Renovating?
Construction loans are ideal for borrowers looking to build a new property from the ground up. In many cases, a construction loan may be the only feasible lending option for a new build.
Deciding whether to use a construction loan for renovations is less clear cut. You can borrow through a construction loan for major renovations, but you have other options as well.
You can refinance your current loan, redraw some of your additional repayments, extend your mortgage, or borrow through a line of credit loan for your renovations. Your lender might even offer a personal loan specifically designed for renovations.
It's a smart move to consult with a mortgage broker or loan officer at your bank before you commit to a construction loan for renovations. They will be able to advise you on which options are suitable for your situation.
Comparing Construction Loans
Most major lending institutions provide construction loans for borrowers who want to build houses. Although these loans can be a bit more complicated, you can still find competitive rates by comparing different construction loan offerings from top lenders.
Use our comparison tool to find out how much a construction loan might cost you.