Last Updated on 21 December 2020
Guide to Renovation Loans
---
Home loan renovations can be a smart way to add value to your home and make it more pleasant to live in. But renovations take time and money, which may be in short supply.
Fortunately, you have a range of renovation loan options—and a few alternatives—that can help you achieve your goals.
Key Points
Borrowers can also fund renovations by refinancing a current home loan, using a credit card or redraw facility, or applying for a construction loan.
Before applying for a renovation loan, nail down the scope of your renovations and the budget, including room for unexpected expenses.
What is a Renovation Loan?
First, a clarification: renovation loans aren't a specific type of loan, but rather a category that includes a range of different loans. There are pros and cons to each kind of renovation loan, which gives you the flexibility to choose a loan type that suits your situation.
A renovation loan gives you the funds you need to do home renovations. These can be large-scale renovations, like adding a new room to the house, or small-scale, like updating your kitchen cabinets.
In some cases, you'll draw upon existing home equity to fund your renovations. In others, you'll take out a renovation loan based on your ability to pay it off. Let's look at your options.
Types of Renovation Loans
There's a good chance you've heard of some of these loans before, if not all of them. Renovation loans aren't unusual, and in fact can be used for other expenditures, such as paying for education or a new car.
However, taking out a loan of any type shouldn't be done lightly. Home renovations are traditionally viewed as 'good debt,' because you're borrowing money in order to improve your home, which in turn is likely to increase its value.
When choosing a renovation loan, consider the scope of your renovation, the amount of funds you need to borrow, and how you plan to pay them back.
Home Equity Loan
Also called a 'top up loan,' a home equity loan provides funds based on the current equity in your home. You are able to increase your existing home loan—or 'top it up'—by drawing on your home equity.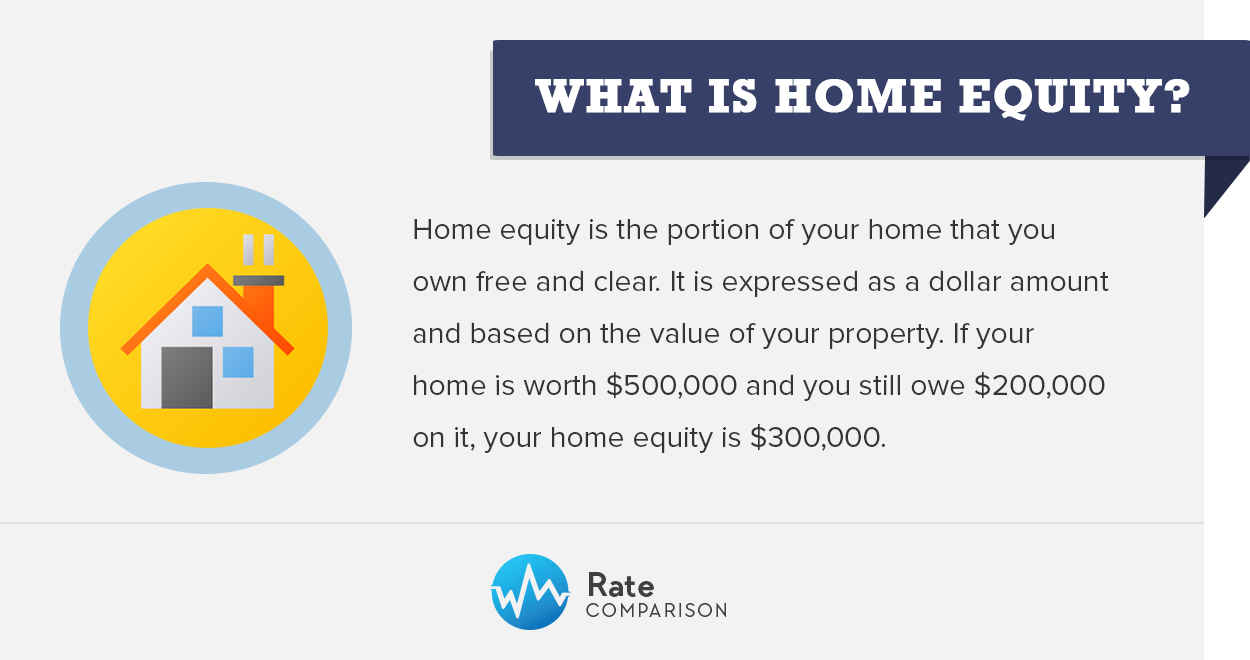 To get a home equity loan, you'll apply to increase your current loan by the amount you need to borrow. For example, if your renovations are expected to cost $30,000, you can apply to top up the loan by this amount. In general, lenders allow you to access up to 80% of your home equity.
Those funds are either deposited into their own account or applied to your current loan. If deposited into an account, your mortgage will increase and you'll owe interest on the topped-up funds. If applied to the loan, you'll be able to redraw them when needed, only paying interest as the funds are drawn.
The advantage of a home equity loan is twofold: you don't have to apply for an entirely new loan, and you'll be able to benefit from lower home loan interest rates.
Line of Credit Loan
A line of credit loan works like a very large credit card. It's a revolving line of credit that allows you to draw funds as needed, pay them off, and use them again. The difference between a line of credit and a credit card? Line of credit loans usually have a much higher credit limit, up to around $50,000.
You'll only pay interest on the funds that are withdrawn. Interest rates tend to be higher than that of home loans, but lower than that of credit cards. You'll also have flexibility, as there usually aren't fixed repayment terms. Don't forget that there may be ongoing account-keeping fees for a line of credit loan.
Personal Loan
A personal loan can also double as a renovation loan. It's a good option if you need money in a hurry, though your interest rates will likely be higher than with home equity loans. A secured personal loan is secured against an asset, like your house. If you are unable to meet the repayments, the lender can sell that asset.
An unsecured loan is riskier for the lender, as they're essentially lending you funds in good faith based on your credit history. Interest rates tend to be higher for unsecured personal loans, but still lower than that of credit cards.
A personal loan usually has a set repayment term. You may be able to borrow amounts of around $4,000 to $50,000, depending on your financial situation.
Alternatives to a Renovation Loan
Before you start weighing up which type of renovation loan you want, there are a few more options to consider. Depending on the size of your renovations and your current loan situation, you may want to look into these renovation loan alternatives.
Construction Loan
You may see construction loans lumped into the renovation loan category, but technically they're a different type of loan, which is why we're classifying them as an alternative.
Construction loans are intended for new builds, but they can also be used to undertake substantial renovations—we're talking knock-down rebuilds or major home additions.
These loans are paid out in stages according to a predetermined plan. At the completion of each stage, your lender will conduct valuation to make sure the work is up to scratch before issuing the funds.
The good news? You'll only pay interest on the funds as they're drawn down. The not-so-good news? It's an entirely new loan, which means going through the home loan application process again.
Refinancing Your Current Loan
You can also refinance your current home loan to fund a renovation. This can be another way of tapping into your home equity, since you can apply for a larger loan based on the value of your home.
Ideally, you'll get a loan that offers a lower interest rate than the one you're currently on. It may also involve other perks such as better customer service, less fees, or more features.
Refinancing is similar in concept to topping up your loan, but it does require switching to a new home loan. If this works in your favour, it can be worth doing as you'll kill two birds with one stone—get the cash for your renos and lower the interest on your home loan.
Redraw Facility
Homeowners often take advantage of their home loan redraw facility to finance a renovation. If your loan has a redraw facility, you can make extra repayments on your mortgage, then redraw the funds when needed.
Using redraw is handy for smaller renovations but it does require advance planning. After all, you'll have to put the funds in before you can take them out.
Credit Card
Finally, credit cards can be an alternative to a renovation loan. Use this option with caution, as interest rates tend to be significantly higher than that of a home loan. You could be paying over 20% interest on the funds you use, which can add up quickly.
If you intend to use a credit card to fund renovations, consider whether or not you'll be able to pay the bill off in full each month. This isn't always a good option for large renovations of over $10,000, as the credit limit may not be sufficient.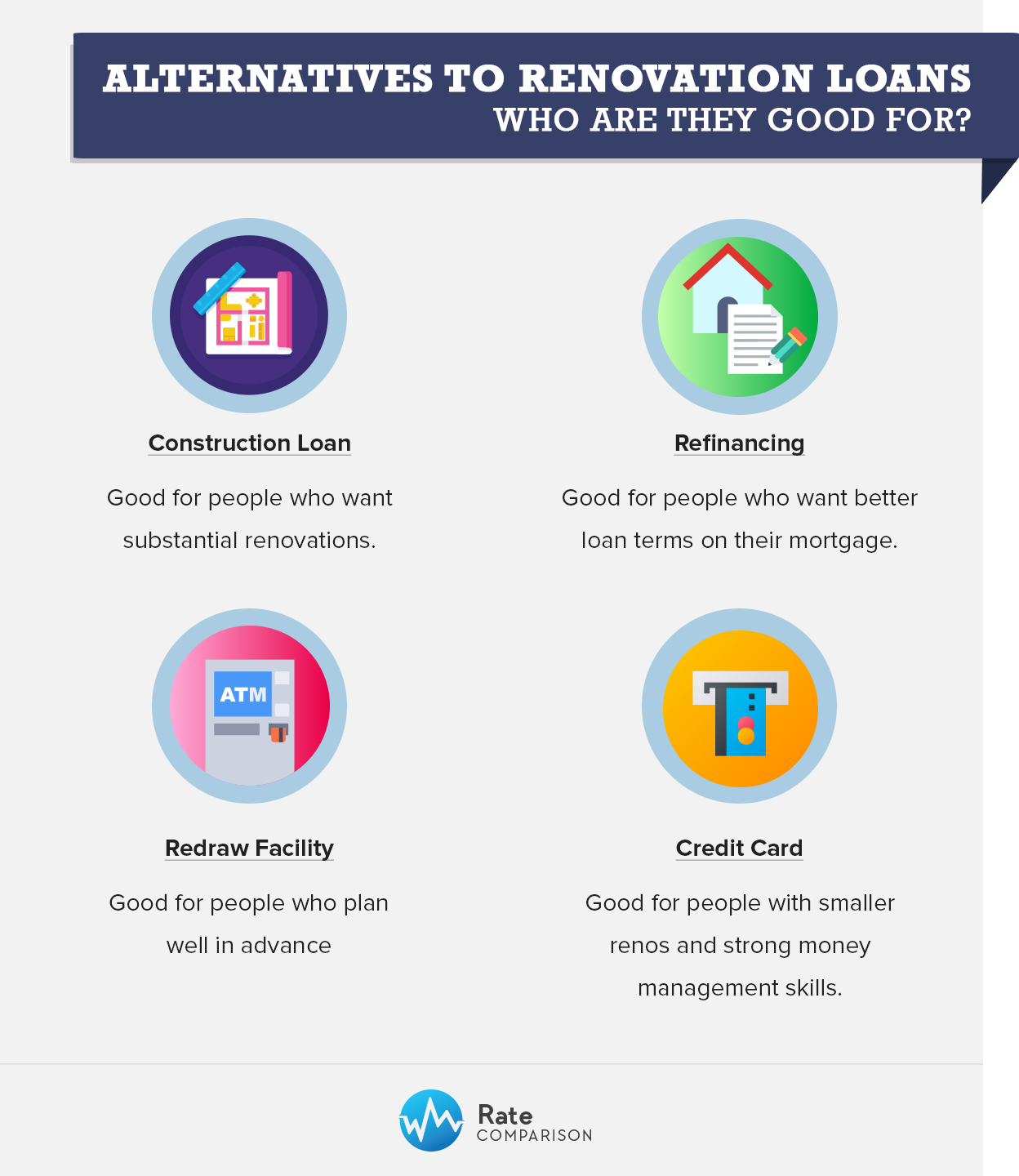 Preparing to Apply for a Renovation Loan
When deciding on a renovation loan, there are a few decisions you'll have to make first. Start with a serious assessment of the renovations you're planning to undertake. This isn't the time for rough estimates and loose plans; renovation budgets can blow out very quickly, so try to nail down as much as you can before you begin.
Here are a few costs to consider when budgeting your renovations:
Contractor fees
Materials
Council approval
Costs associated with delays
Unexpected expenses
Scope of works
How to maximise value for money
Once you have nailed down a budget, you're in a better position to decide which type of renovation loan is for you. If you're planning to use an existing redraw facility, check with your lender to see if you need to register for redraw. If you're applying for a loan, loan top-up, or credit card, it's time to get your documents in order.
Here is some of the information you may need to provide:
Proof of income
Renovation plans
Evidence of existing debt
Home loan valuation
Proof of assets
Remember to compare renovation loans before moving forward with your selection; the best loan terms aren't always with your existing lender.
Managing Your Renovation Loan
So your loan application has been approved and your funds have been granted. Now it's time to get moving on the renovations! Things are probably about to get chaotic, but it's important not to lose sight of your renovation loan.
Managing your renovation loan means making repayments on time and keeping an eye on your budget. It's easy to miss a repayment or two, especially if money is tight, but that can seriously impact your credit.
This is especially important if you're using a credit card or personal loan, because the interest rates can build very quickly, leaving you in much more debt than you bargained for. Making on-time repayments helps you stay on top of your finances, and puts you in a better position if you do find yourself over budget with the renos.
Whether you're just putting up a fresh coat of paint or completely gutting the kitchen, a renovation loan can help you get there. There are plenty of options, so shop around to find a loan that fits your financial situation.