Last Updated on 27 October 2020
Home Loan Brokers: What They Can Do For You
---
Buying a new home? How exciting!
So, you've found the home you want to purchase, and it's time to take out a loan. There are several ways you can find and apply for a loan. There's no shortage of mortgage suppliers in Australia.
The difficulty comes when deciding whether or not to use a mortgage broker for your loan. A lot of customers are confused about exactly what they do and how they can help.
Ahead, we'll give you an overview that covers what a mortgage broker does, as well as the benefits and downsides of choosing a broker to find you a mortgage.
A mortgage broker works with you to help you find the best mortgage for your financial situation.
Brokers have the ability to look at a wide range of lenders to find deals you might not be able to observe on your own.
Finding the best broker can be difficult, though, so we recommend relying on referrals and testimonials to find the most reputable broker in your area.
What is the Role of a Mortgage Broker?
A mortgage broker plays a pivotal role in securing you a mortgage for your new home. You can attempt to navigate the process yourself by going through a bank or another lender, but a qualified mortgage broker usually makes the process considerably easier on you.
Roles of a Mortgage Broker
Assessing Your Needs

The first thing a mortgage broker does is assess your present financial situation and your ability to pay back a loan.

This information will tell them what kind of a loan you qualify for, and which structure best suits your needs. They'll take a look at your credit score, debt history, and income to see which type of mortgage to recommend.

Checking Available Loans

Once the mortgage broker takes a look at the above information, it's time for them to see what kind of loans you will be able to receive.

If you have a bad credit score or are strapped for cash, the mortgage broker will still be able to find an option for which you will qualify. If you're attempting this process without the help of a professional, this step can be a bit more difficult.

Once the mortgage broker knows what options you have, they'll return to you and share that information. Then, they'll discuss which structure they believe will fit your situation the best.

Step-By-Step Guidance

Once you and your broker have agreed on a loan to pursue, it's time to fill out an application.

The application process can be tedious, which is why a lot of people gravitate towards mortgage brokers.

Most mortgage brokers assist when filling out loan applications. Some will fill them out for you once you give them the necessary information.
Why Use a Mortgage Broker?
If the above process seems simple to you, then you might be able to tackle the process without any help. Still, some benefits come along with going through a mortgage broker as opposed to searching for a loan by yourself.
A lot of people choose to use a mortgage broker because the process can be complicated. Below, we've listed a few of the reasons you might want to consider using one.
A Variety of Options
Australia has a large lender pool when it comes to mortgage providers. Banks, credit unions, and outside lenders can all bid for your business on the open market.
The variety of options is fantastic for customers, but it also adds a layer of complexity. If you're going at it alone, it can be tough to know when you're getting the best deal.
Finding a mortgage without the help of a professional requires you to become one yourself. You'll spend weeks or months shopping for the right mortgages, and may not understand the requirements at first.
Your first few applications could get declined on technicalities. If this happens, you risk negatively affecting your credit score, and jeopardising the possibility of getting the perfect mortgage for which you were searching.
A Broker Works For You
Some people tend to distrust mortgage brokers. They think that they're only out for their commission, and don't care about getting their clients the best deal for their needs.
While the mortgage broker industry isn't immune to some bad apples who want the largest commission they can find, this isn't the norm.
Most mortgage brokers don't have a particular incentive to work against your best interest. They'll receive a commission check either way, and a lot of the time your mortgage price, duration, and structure doesn't make much of a difference.
The majority of mortgage brokers will receive a lower commission if the structure doesn't fit their client's needs.
Mortgage advisor companies care more about obtaining new clients through positive user experience than they do about padding an individual broker's pocket.
They're the Expert
Mortgage brokers have access to a wide range of mortgage options and are intimately familiar with many of them. They know how to finesse particular lenders, and know which ones are more likely to accept someone in your specific situation.
If you were to go about this process by yourself, you'd have to meet with multiple banks to try to determine which one is the best fit. When it comes time to apply, you might not know whether or not you have what it takes to get accepted.
The Downside of a Mortgage Broker
Obtaining a home loan through a mortgage broker isn't the only way. Some people take a hands-off approach when they use a broker, which might end up costing them some money.
There are a few reasons why you might not want to use a broker for your home loan, especially if you have some previous experience searching for a loan by yourself.
How Do You Know You're Getting the Best Rate?
Just because you hired a mortgage broker, it doesn't mean you should surrender all researching responsibility to them. If you don't know what kind of deals you might qualify for, you won't know whether or not you're getting a good deal.
A lot of mortgage brokers will try to get you the best deal they can find, but others may settle for a little less.
Knowing your options will give you the power to make an informed decision if you don't like what the broker brings you.
Additionally, their resources might be limited to the banks and lenders to which they can access. There might be local lenders that offer better deals but won't give a broker any commission. It's worth checking these out, even though a broker wouldn't mention them.
A Varying Experience Level
It can also be tough to tell the experience level of your broker if you're new to the industry. If you don't have any baseline of personal knowledge, you may end up hiring an inexperienced broker without knowing it.
We recommend finding brokers through personal recommendations. Check with friends who have used brokers to find mortgages, and ask them if they would refer you to their broker.
That way, you can ensure that the broker you hire is experienced enough to service your needs.
Include pros/cons table here to summarise: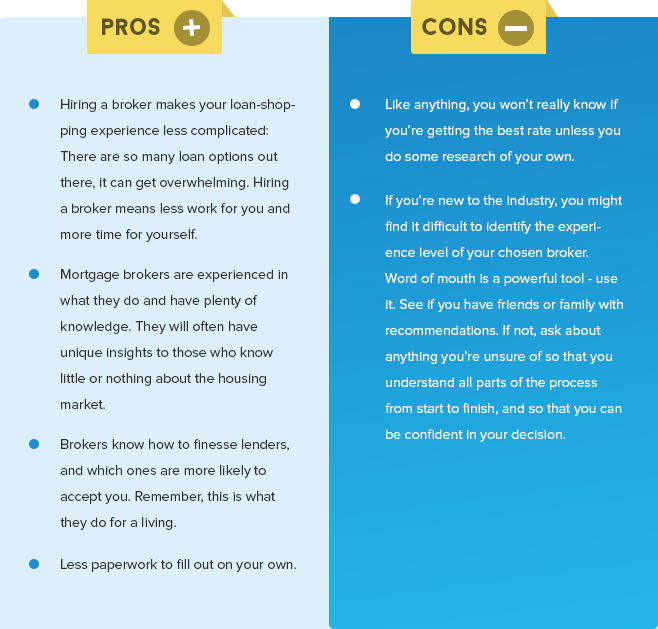 Going Through Your Bank Instead
If you don't like the idea of using a broker and have good credit, you can usually find a suitable rate from your bank or a local lender.
Searching through these means will take more work on your part, but you might end up saving a bit of money.
If you have a steady income, excellent credit rating, and are a member of the bank, a loan officer will likely be able to find you a mortgage to fit your needs.
The downside of finding a mortgage this way is you won't have as many options as if you go through a broker.
If you have a high credit score and steady income, though, your bank should offer you a loan that competes with the best on the market. You'll also have more negotiating power when working with your local bank.