Last Updated on 21 December 2020
Low Income Home Loan Guide
---
Low income home loans are designed to help people who want to buy a home, but have less income to spare. While the loans themselves may look similar to a standard home loan, with options like fixed vs. variable rates or principal + interest payments, there are some differences.
The difficulty comes in securing the loan itself. Lenders like to see proof of sufficient income that shows your ability to repay the loan over time, which can be difficult if you don't have much to show.
Employment income might not tell the whole story. You might receive child support payments, government assistance, or other forms of earnings that can be classed as income on your home loan application.
Ahead, we'll give you some tips on how to maximise your chances of securing low income home loans, as well as some assistance programs you might be able to take advantage of.
Key Points
Securing a home loan with low income can be more challenging than securing a loan with average to high income.
Low income applicants can also consider using a guarantor, applying for pre-approval, or taking steps to improving their credit score.
State and territory governments offer grants and programs to assist low income earners in entering the housing market.
Tips On Securing a Loan
Securing low income home loans is more difficult than securing a loan with an average or high income. There are a few things you can do to improve your chances, and we'll take a look at them in this section.
Debt and Credit Report
Having low income means it will be more difficult for you to secure a home loan. There are government programs that can assist you (more on these below), but you will need to make sure all of your other finances are in order.
The goal is to show lenders that you're a low-risk borrower, even if you don't make much money. Most of the time, this often means having good credit along with minimal debt.
While it's ideal to pay off any debt before applying for a home loan, that isn't always possible.
If you have existing debt, one of the most effective things you can do is make your repayments on time. This might mean setting up direct debit payments so you don't miss a payment.
Showing lenders that you have a good credit score and minimal or no debt can go a long way towards improving your chances with low income home loans.
Large Deposits – Borrowing Less
One of the best ways you can lower the bank's risk is to put a sizeable deposit on the home; for example, a deposit of 40% or more of the home's value. This reduces risk for the lender, since you're borrowing less money.
This isn't always an accessible option, especially for people on a low income.
Pre-Approval
We recommend getting pre-approval before you go shopping for a home if you're looking for low income home loans.
Your borrowing power will be limited, even if you have good credit and put down a sizeable deposit. For this reason, it makes sense to know your budget before committing to a particular home.
Pre-approval is when a lender assesses your borrowing power and conditionally approves a certain loan amount. While pre-approval is not an official loan, it establishes how much you are qualified to borrow.
Pre-approval is based on your current financial situation, and it generally expires in three to six months depending on the lender. You are not required to get a loan from the same lender who granted pre-approval.
Note that an application for pre-approval does appear on your credit report, so it's better not to submit multiple pre-approval applications hoping one will stick.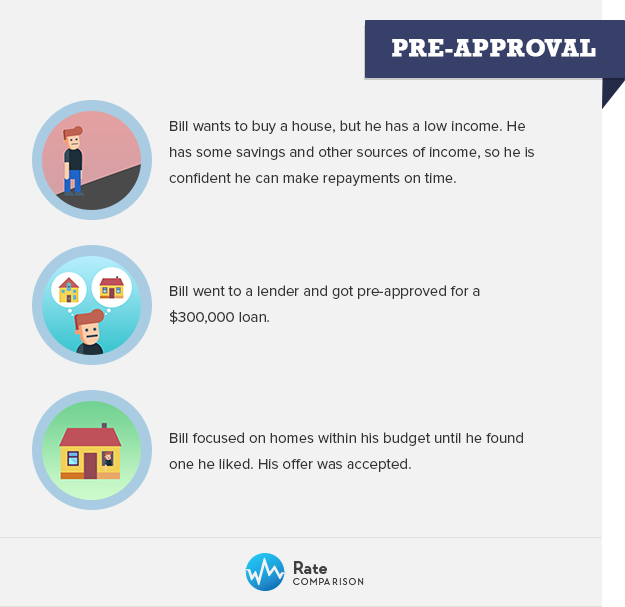 A Guarantor
A guarantor is someone who uses the equity in their home as collateral against your loan, committing to repay the loan if you are unable to.
There are a few benefits to this. A guarantor can help improve your borrowing power, help you avoid paying lenders mortgage insurance, and help you secure a lower interest rate.
Of course, the downside is obvious. If you default on your loan, the guarantor will be stuck with the bill.
Since this is such a large favour to ask of someone, most people rely on their parents or other trusted family members to be guarantors. In fact, many lenders only allow family members to act as guarantors.
Assistance Programs For Low Income Home Buyers
You don't have to be alone in the borrowing process. State governments and other organisations have programs that might help you get a low income home loan.
First Home Owners Grant
Grants and government concessions may apply if you're buying your first house. Keep in mind that while these grants and concessions can help you pay for your home, they probably won't factor into your ability to secure a loan. Still, these are helpful to know about if you're a first time buyer.
First Home Owners Grants (FHOG) typically only apply when purchasing a new or substantially renovated home. If you are buying a home that has been previously occupied, you are not likely to be eligible for a grant.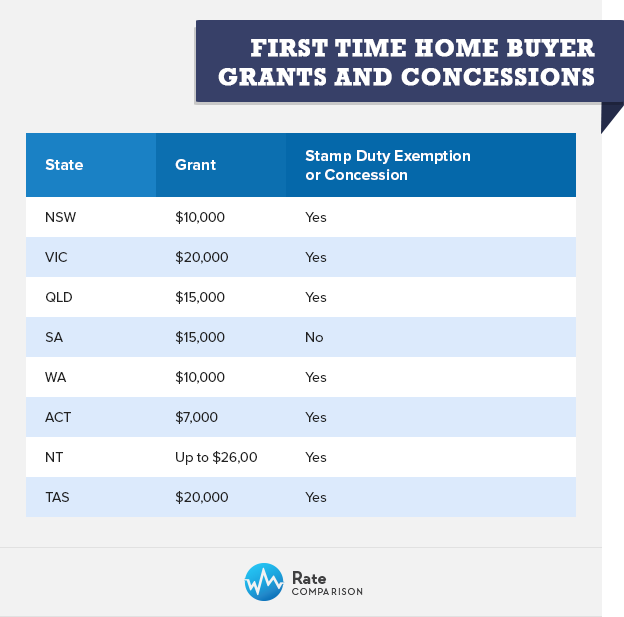 Home Purchase Assistance
Home Purchase Assistance (HPA) refers to government financial assistance offered by individual states and territories. These programs focus on improving access to new homes and allowing some residents to stay in their current home.
HPA can take many forms, such as:
Concessional loans
Mortgage relief
Deposit assistance
Grants
Direct Lending
Interest rate assistance
The AIHW reports that most households receiving a type of HPA assistance are in major cities, followed by those in outer regional areas.
These government HPA programs include:
Indigenous Business Australia
Indigenous Australians with low income can consider Indigenous Business Australia (IBA) for their borrowing needs. IBA only provides a select number of loans per year depending on their funding, but they help break down barriers to home ownership for Indigenous Australians.
Most of the people who borrow from IBA are first-time home buyers. IBA has concessional rates for these borrowers and can work with those who have low income, bad credit, and low deposits.
Some states, including Victoria and Western Australia, offer a shared home program along with government grants and concessions. Under this scheme, the government pays for a percentage of your home to lighten the load and improve your borrowing power.
Opting into this scheme means that you have more financial freedom to put down a high deposit and secure a loan. Of course, it also means that you'll have less equity in the home. If you decide to sell, the government will still take their portion.
You can buy out the government at a later date if you choose to, or sell the home and pay the government their share. Shared housing schemes provide alternative paths to home ownership for people who otherwise may not have access to the housing market.