Last Updated on 2 March 2021
Low Deposit Loan? No Problem!
---

Entering the home market can be daunting, especially if you don't have very much money in the bank. If you have a steady stream of income, however, there's a chance a lender will approve you for a low deposit loan.
Here, we'll dive a bit deeper into low deposit loans, their pros and cons, and the application process, so you get a better understanding of what to expect.
What is a Low Deposit Loan?
A low deposit home loan is exactly what the name suggests: a higher mortgage that covers most of the home's cost. Instead of providing around 20% of the home's value with your deposit, you'll only cover approximately 5% or 10% of the home's value.
New home buyers are often attracted to this type of loan when they don't have enough money to finance a typical mortgage. They can afford to purchase a home with around $20,000 in the bank instead of close to $60,000 or $70,000.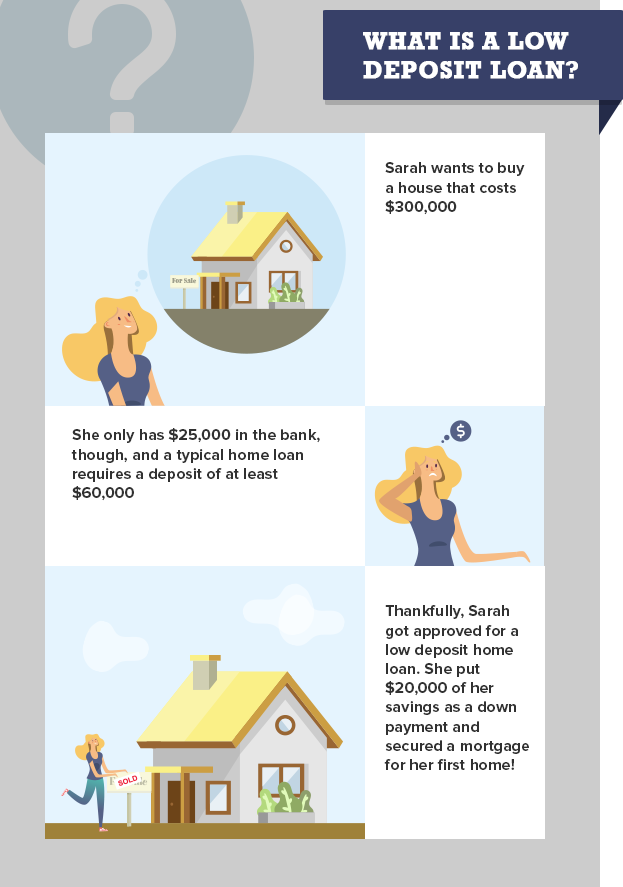 Loan-to-Value
Loan-to-Value is one of the terms that's important to understand if you're considering a low deposit loan.
The LTV is the difference between the loan amount and the overall price of the home. The example in the infographic above shows a high LTV ratio. An example of a low LTV would be if Sarah put $70,000 as a down payment on her home loan.
The bank usually considers any mortgage that provides less than 80% of the homes value a low LTV ratio.
These loans will almost always cost less than high LTV loans since you're avoiding interest in the long-run. Putting more money on a down payment also shows that you have enough money to cover the loan cost, and are therefore a low-risk borrower.
Low-risk borrowers always get a better rate than high-risk borrowers. The lender wants to make sure they'll get their money back and may be reluctant to lend you money if you don't have much saved up.
How Small Can Your Deposit Be?
Each loan will differ based on how much the lender is willing to budge. As a general rule, banks require at least 3-5% of the home's value as a down payment.
These percentages represent the bare minimum, and you won't find a reputable lender willing to lend you more than 97% of the home's price. They have to draw the line somewhere.
That said, there are a few ways you can maneuver within the system—even when you don't have any money to put down as a deposit.
Getting help from family members and personal loans from other financial institutions might give you a head start. Of course, you'll still need a high income and no other outstanding debts to qualify for one of these loans.
If you don't have 5% of the home's value to put towards a down payment, you probably won't be able to afford a mortgage without the help of a family member or friend. Putting 10% down will give you a much better shot, but the lender will still consider the mortgage a low deposit loan.
Who Should Consider Low Deposit Loans?
There are several reasons someone would and wouldn't want a low deposit loan. Ahead, we'll cover some of the pros and cons—but right now we'll focus on what type of a borrower might consider a low deposit loan.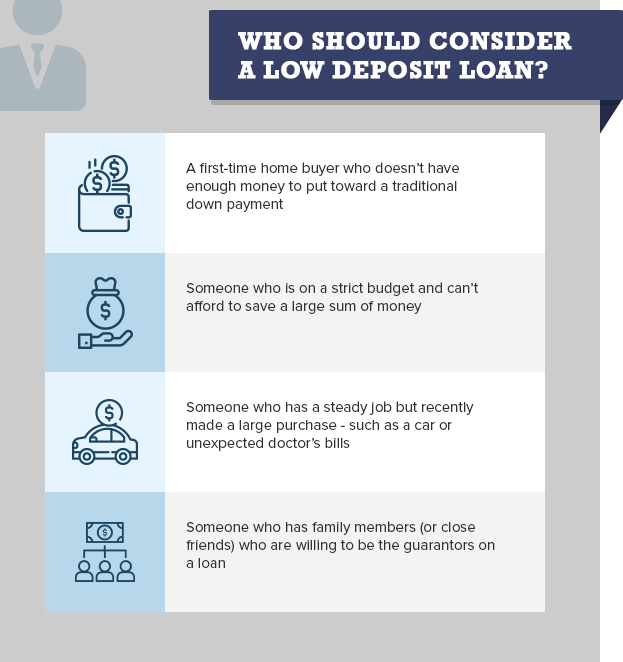 Benefits and Drawbacks of a Low Deposit Loan
The primary benefit of a low deposit loan is obvious: you can purchase a home without the funds it usually takes to get approved for a mortgage.
You might have a feeling that it seems too good to be true, and you're partially correct. Applying for one of these loans is a massive hassle, and there are several disadvantages to low deposit loans that might make you want to wait until you have enough money for a traditional mortgage.
Here are some of the benefits and drawbacks of low deposit loans.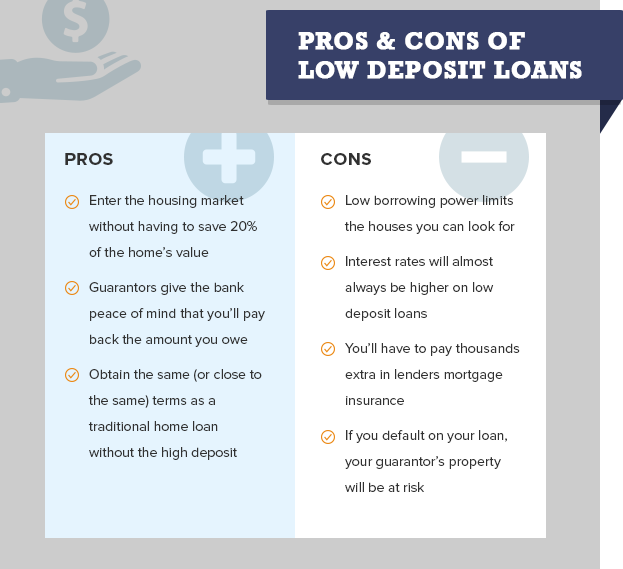 Benefits of Low Deposit Loans
The first benefit of a low deposit loan is your ability to drastically cut the time it takes to save money for a home. You can obtain a low deposit loan with a 5% or 10% LTV, which means around $20,000 might be enough for a down payment.
If your parents are willing to be the guarantor on your loan, the approval process will be much easier than it otherwise would be.
You can use their home as collateral on the loan, giving the bank much more security that you will pay them back what you owe. If you don't, they have something they can take as payment instead.
A low deposit loan offers many of the same terms as a standard loan. You might even be able to choose from a few different options if you have a steady income and a guarantor.
Drawbacks of Low Deposit Loans
The drawbacks of low deposit loans are numerous. For starters, you won't have the same borrowing power that you would if you had enough money for a 20% down payment.
A large amount of savings shows the bank that you have some money in case times get rough. They might approve you for a higher value loan, which will allow you to search through a wider variety of potential houses.
Low deposit loans also often come with high interest rates. The more money you need to borrow, the more power the lender has over you. They know that it's a struggle to get approved for a loan with a low deposit, and will make the most out of their leverage.
If the LTV of your home is under 80%, you will also have to pay lenders mortgage insurance in addition to your monthly loan payments. The rate of this charge will depend on the price of your property and your down payment, but will undoubtedly cost you thousands more in the long run.
Getting Approved
Getting approved for a low deposit loan is a lengthy process.
You have to provide the bank with all kinds of information, including your income, monthly savings, proof of employment, credit report, reliability, and more. After all of that, you still might get denied.
Tips for Application
We can give you a few tips that will provide you with the best chance of getting approved. In essence, you want to be able to prove to the bank that you can make regular payments on your loan, even if times get tough.
Get a guarantor: Getting a family member, or close friend to be the guarantor of your loan will be the best tip we can give you. You're reducing your risk by doing this, and the bank will be much more inclined to lend to you with some collateral behind the loan.
Show genuine savings: Genuine savings refers to how much you deposit into your savings account each month. If you can save at least 5% of the home's value within a few months and show this to the bank, it will help your chances.
Clear unpaid debts: No bank will approve you for a low deposit loan if you already owe substantial money elsewhere.
Show steady income: Your ability to repay your loan is tied to your income. A bank needs to see substantial income and steady employment to instill confidence for them to believe you can keep up with your monthly loan payments.