Last Updated on 7 December 2020
Renovation Loans vs Construction Loans
---
Home loan renovations can be anything from a facelift for your bedroom walls to knocking down an old house and starting from scratch. That's why you have so many options for funding. But should you use a renovation loan or a construction loan for home renovation?
This guide will explain the difference between renovation loans and construction loans, and which loan is best suited for which type of reno.
Key Points
Renovation loans allow you to access your home equity or take out a personal loan or credit card to finance home renovations.
Construction loans are drawn down in stages, so you only pay interest on the funds as they are drawn down.
Before deciding on which type of loan is best for you, it's wise to plan out your renovations carefully, including a budget, so you don't get caught in a situation where you need more money in a pinch.
Renovation Loans
There are a range of ways you can access money for home renovations. Depending on your financial circumstances, you may be able to consider all or some of the options we'll go over in this section.
Use Your Redraw Facility
If your current home loan has a redraw facility, you can redraw any extra repayments that you have made towards the home loan. For example, if you've made $4000 in extra repayments over the years, you can redraw that $4000 and put it towards your renovations.
Be aware that some home loans charge a fee for redraw or implement a cap on how much you can redraw. Your interest payments will also increase, because the amount you redraw increases the principal, which is the amount owing on the loan.
Top Up Your Loan
A loan top up lets you borrow more money on your existing home loan. You won't have to take out a separate loan, but will instead borrow more based on your home equity. This saves you the hassle of applying for a new loan, though increasing your loan amount does mean higher repayments.
Home loans often have lower interest rates than personal loans or credit cards, making them a good option for renovators.
Refinance Existing Home Loan
Refinancing is basically replacing your current home loan with a new one. It does mean applying for a new loan, but it can save you money and give you the funds you need to do home renovations.
Homeowners often refinance to get a better deal on a home loan, opting to switch to a loan with a lower interest rate and less fees. When you refinance, you can also do it for a larger loan amount, and use those extra funds to do your renos.
Personal Loan
Personal loans might be an option for those who want money quickly. There are two types of personal loan: secured or unsecured. With an unsecured loan, you can expect to borrow somewhere around $4000 and up, but there will usually be a higher interest rate and a shorter loan term.
A secured loan is a loan secured against collateral, such as a term deposit. The interest rate is lower but still higher than that of a home loan.
Personal loans generally offer better rates than credit cards, and can be paid off more quickly if you choose a variable rate loan.
Credit Card
If you don't need large sums of money to do your renovations, a credit card can be a convenient option. Look for low-interest cards with rates of around 15% or less, and plan to pay your balance off in full each month.
Line of Credit Loan
A line of credit loan works like a credit card with a very high limit, secured against your home equity. You can withdraw funds as needed, pay off the loan, then re-access the funds again. This gives you the flexibility to withdraw large sums of money at once, or pay out smaller amounts along the way.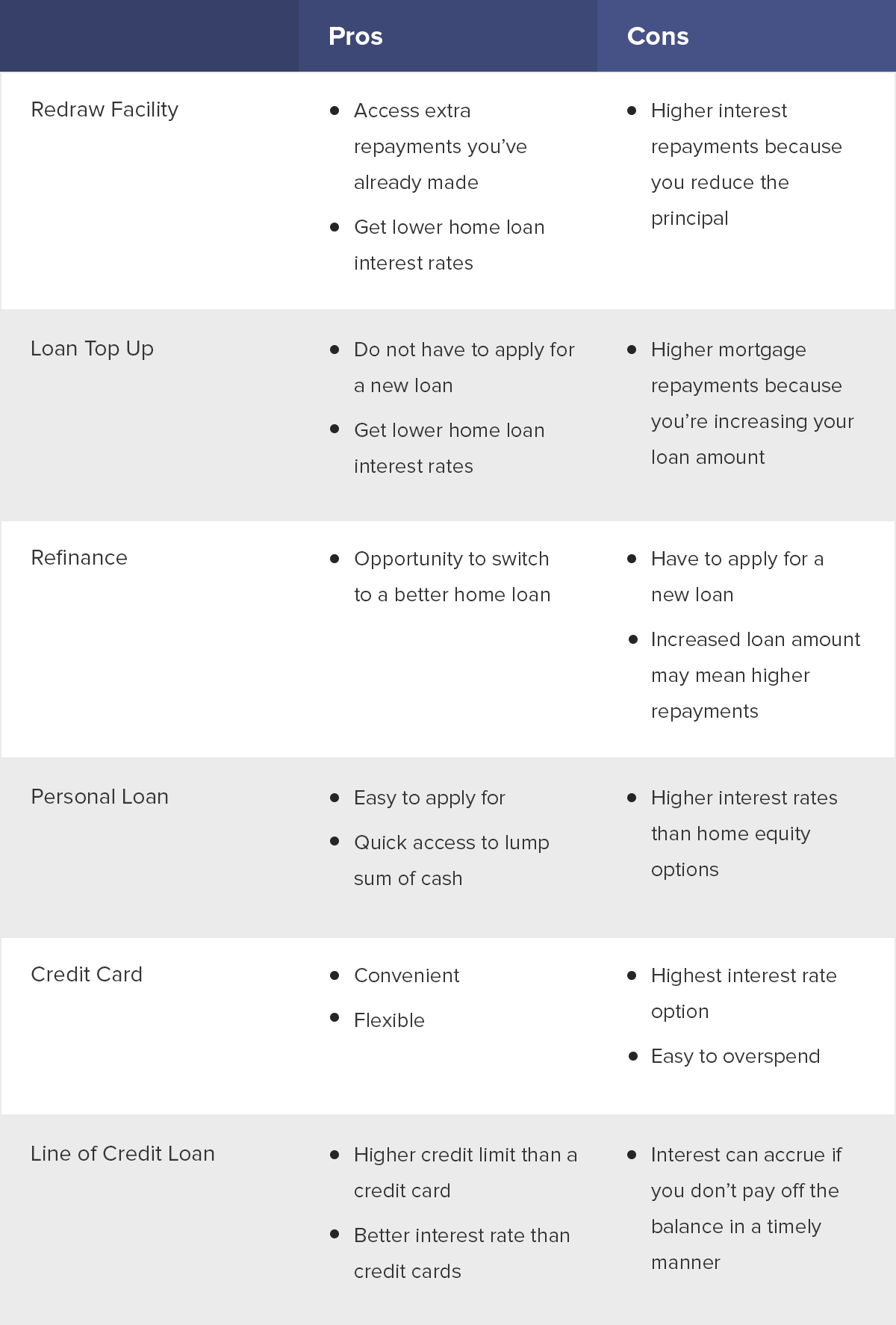 Special Considerations for Renovation Loans
Renovations are famously volatile. People often run out of time or money due to insufficient budgeting, unexpected repairs, or a project that increases in size.
When this happens, you may be forced to go back to the bank and ask for a bigger loan or a longer term. Borrowers are then in a precarious position, because a lender may increase the interest rate or refuse the extension.
It's risky for a lender to loan money on large renovations, especially when the loan is secured against the value of the property. That's where construction loans come in, because they reduce the risk for the lender.
Construction Loans
A construction loan is a home loan specifically designed for construction of a new house, or major renovations to an existing house. The loan is paid out in stages, which offers the lender more security: if the home doesn't meet valuation expectations at each stage, they will not release the funds.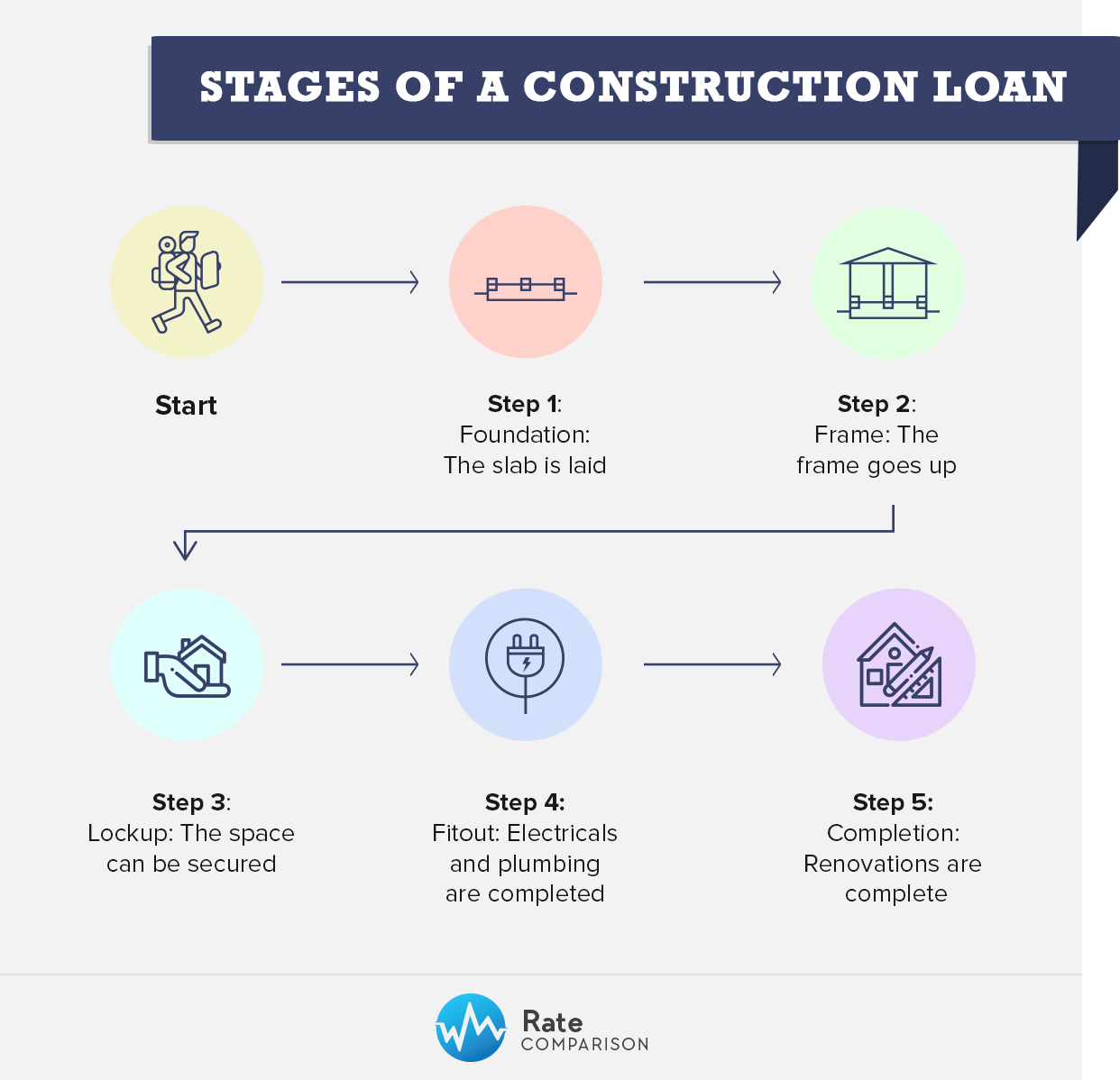 Borrowers also benefit from the structure of a construction loan. Instead of paying interest on the total sum borrowed from day one, you only pay interest on the funds you have drawn down. It won't be until the loan is fully drawn down that you'll pay interest on the full amount.
Applying for a construction loan is similar to applying for a regular home loan in that you have to submit an application, show proof of income, and pay a deposit. However, you'll also need to engage a licensed builder and an architect to draw up plans for your renovations.
The amount you can borrow is usually the value of the land plus the projected value of the renovated property. You may have to provide plans and council approval as part of the application process.
Construction loan funds are typically drawn down in five stages, though this may vary depending on the scope of your renovations. Here's an example of how that looks.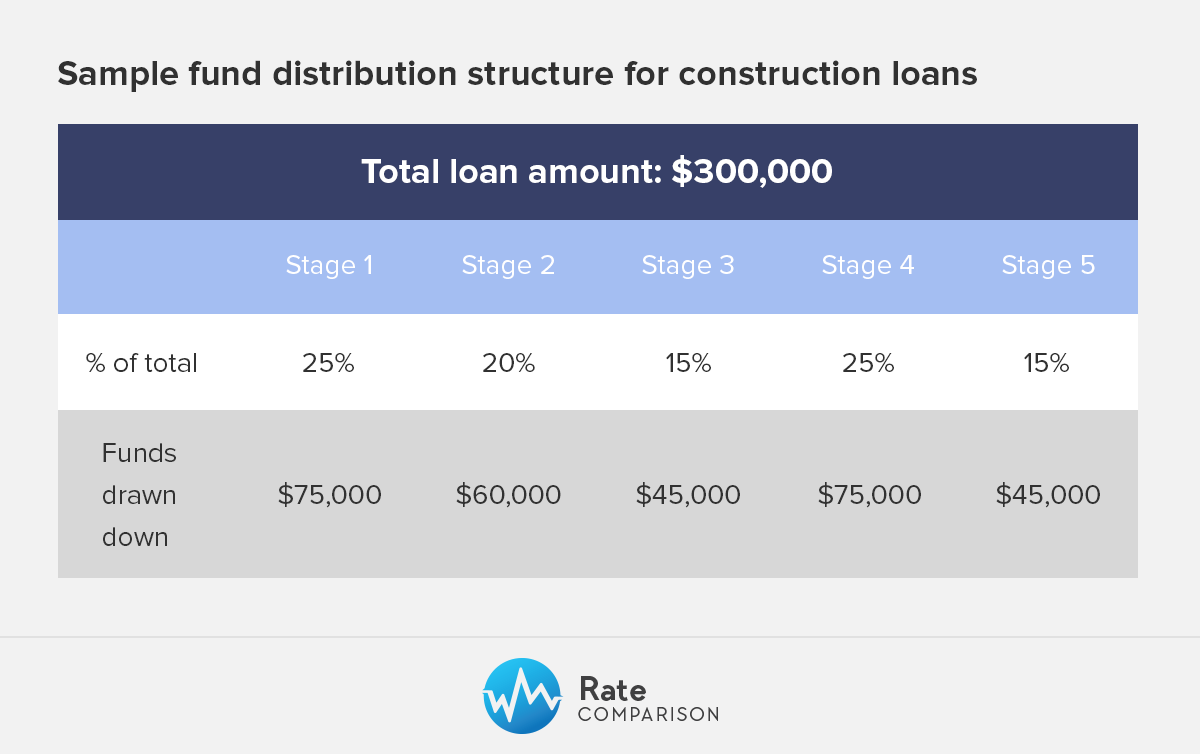 Knock Down Rebuild
Construction loans are sometimes referred to as building loans. They are often used to knock down and completely rebuild a property. In this case, the loan amount is usually based on the value of the land minus the cost of knocking down the existing property, plus construction costs.
You can typically borrow up to 90% of the land value or up to 95% of the land value and construction costs combined.
Other Major Renovations
Construction loans can also be used to fund major renovations, such as adding an extension to your home or gutting a kitchen or bathroom.
A construction home usually offers less flexibility, because you are working towards an agreed plan with a fairly rigid cost structure. The property is also valued at each stage to ensure that it is on track, which comes out of your pocket.
However, you're only paying for work that has been completed, and you save on interest. In some cases, you may even pay interest only on the loan until the renovations are completed, which can be very cost-efficient.
Renovation Loans vs Construction Loans for Home Renovation
So, which type of loan is best for your home renovation? That depends on you and the renovations you have planned. In general, large-scale renovations like a knock down rebuild may be better suited for construction loans. If you're renovating smaller spaces or making minor changes, you may prefer a renovation loan.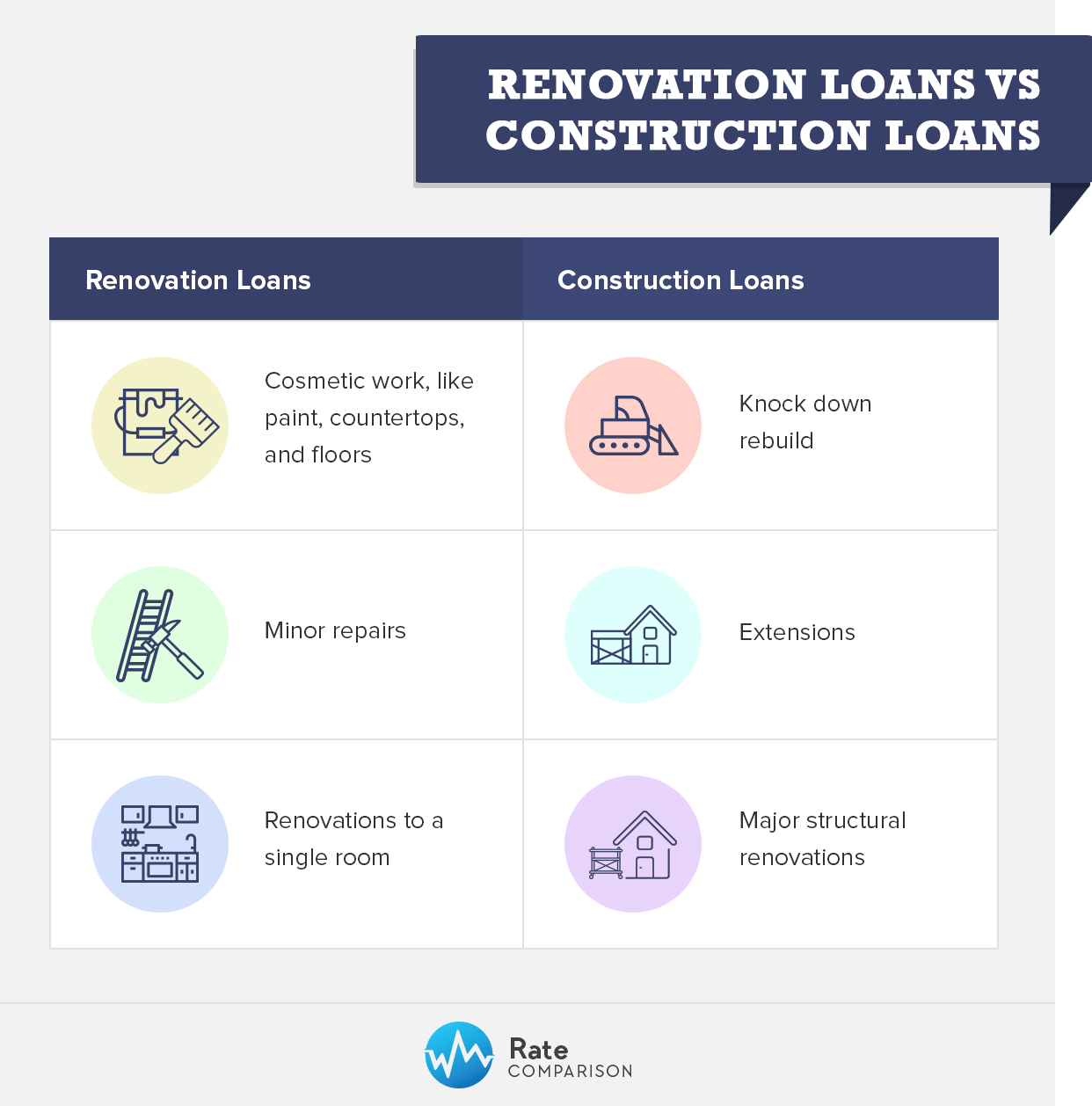 Whether you decide to apply for a renovation loan or a construction loan for home renovations, don't take the first loan that comes your way. Just as you would shop around for a car, you can shop around for a home loan.
Comparing home loans is a move that can save you big bucks, which means more money towards that dream renovation you've been saving for.