Last Updated on 7 December 2020
Should You Use Your Super to Buy Your First Home?
---
Feel like you're never going to reach your saving goals, and that the property market will be forever out of reach? The government has noticed, so they've introduced the idea of using super to buy first home.
With the First Home Super Saver Scheme, you can save more money faster, but should you do it? Here's a guide to how it works and who it can help.
Key Points
The First Home Super Saver Scheme, or FHSS, allows first home buyers to sock away up to $30,000 in their super which can later be released for a housing deposit.
By using your super to save for a deposit, you'll be subject to a reduced tax rate, which can help you save more in a shorter period of time.
The FHSS funds must be released before you sign a contract for purchase, or you may have to pay extra taxes on the money.
What is the First Home Super Saver Scheme?
The First Home Super Saver (FHSS) Scheme kicked off on 1 July 2017 as way to make housing more affordable for first home buyers. Using super to buy your first home can help you save for a house deposit. Since superannuation is subject to special tax breaks, the FHSS can speed up your savings and allow you to enter the housing market sooner.
If Not a Home, Maybe a Unit?
First time buyers can make extra contributions to their super fund with the intention of using those funds to buy a house. You can use any super fund, including one you already have, but you should first verify that the nominated fund will release the money for FHSS. You can also contribute FHSS funds into multiple funds.
There are two types of contributions:
Concessional contributions: Before-tax funds
Non-concessional contributions: After-tax funds
To make these contributions, borrowers can salary sacrifice through an employer or elect to make personal contributions to their super. Borrowers can then apply to the ATO to have the funds released before they sign a housing contract.
Up to $15,000 of voluntary contributions from a single financial year can be released at a time, up to a maximum limit of $30,000. These limits include applicable taxes and associated earnings—voluntary concessional contributions are taxed at 15% and associated earnings are calculated by the ATO using a deemed rate of return.
Borrowers can only apply to release funds once, and must wait until the funds are released before they sign a housing contract. Once the application is approved, it takes approximately 25 business days before the funds land in your account.
Tax is withheld on the funds before you receive them, calculated at your expected marginal tax rate, minus a 30% offset. The amount of tax withheld will appear on your year end payment summary.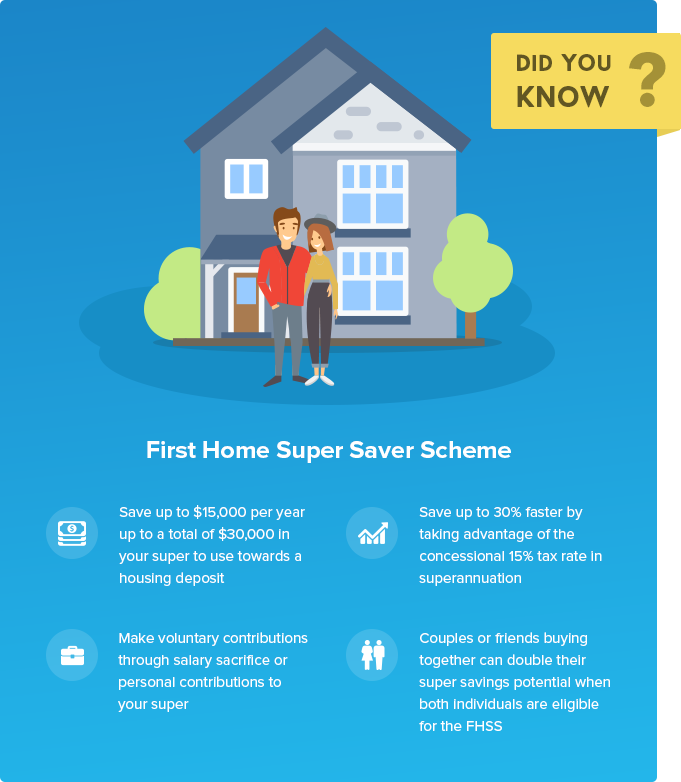 Who is Eligible for the FHSS?
The First Home Super Saver Scheme is open to first home buyers and people who have experienced a financial hardship that led to a loss of property. The government assesses eligibility on a case by case basis.
First Home Buyers
To be eligible to buy your first home through super, you must meet the following criteria:
Be 18 years old
Never owned property of any kind in Australia
Never applied for a release of funds under the FHSS
The property must be residential, and cannot be a houseboat, motor home, or vacant land unless it is in conjunction with construction of a property. You must intend to live in the property for a minimum of six months during the first year of ownership.
Special Considerations
The government makes an exception to the first home buyer provision for people who have lost ownership of their property due to hardship. Examples of hardships include:
Natural disaster
Bankruptcy
Relationship breakdown
Illness
Loss of job
Applicants must be 18 years old and must not have gained an interest in a property since they lost their previous property to financial hardship. They must also be first-time applicants for release of FHSS funds.
Advantages of Using Super to Buy First Home
Buying your first home through your super is generally a way to accelerate your savings by paying less tax, so you can buy your house sooner. Advantages of this scheme include the following:
Flexible Time Frame
At the moment there is no time limit on when you need to apply to release your funds. You can manage your savings for several years before accessing them. Once the funds are released, you have 12 months to sign a contract, with the opportunity to extend.
Double Your Savings
The FHSS applies to individuals, not couples or groups. If you are planning to purchase a home as part of a couple, and you are both eligible for the scheme, you could conceivably double your maximum savings limit from $30,000 to $60,000.
Use the FHSS Alongside Other Concessions
Most states and territories offer a first home buyer grant, which is a lump sum given to eligible buyers for use towards the purchase of their first home. There are also concessions available to reduce the amount of stamp duty you'll have to pay as a first home buyer.
Speed Up Your Savings
With the FHSS, you'll get more bang for your buck, because you're paying less tax on the funds. That allows your deposit savings to accrue at a faster rate, which gets you one step closer to owning your home.
Disadvantages of Using Super to Buy First Home
Of course, there are some downsides to using your super to buy a home. But if you are aware of the disadvantages, you can avoid any unpleasant surprises along the way.
Fees and Charges May Apply
Your superannuation fund may apply fees to the funds held in your super account, or there could be fees associated with the release. Check with the fund before you start saving to see if you'll be liable for any extra charges.
Tax Implications
When you receive your FHSS funds, you'll need to report the assessable and tax-withheld amounts on that year's tax return. This could affect your tax liability, depending on your personal financial situation.
Mind the Cap
Superannuation contribution caps apply. Currently, individuals can only contribute $25,000 in concessional contributions each year. People under the age of 65 can contribute up to $300,000 of non-concessional contributions over a 3-year period, depending on their overall superannuation balance.
If you pump your super account with funds for a house deposit, those contributions do count towards the cap—even after they are released.
Pay Your Commonwealth Debts
When your super fund releases the money to the ATO, they will offset the amount against any outstanding debts before passing it to you. So if you have an outstanding tax bill, expect your received FHSS funds to reduce by the amount that you owe.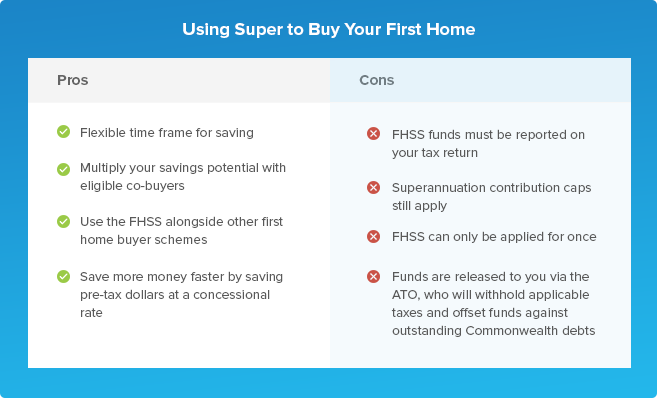 Should You Use Your Super to Buy Your First Home?
Now that you know the advantages and disadvantages of using super to buy your first home, you are in a better position to decide whether or not it's for you. The First Home Super Saver Scheme is in place to help, not hurt first home buyers.
To make the FHSS work for you, remember to check with your super fund before you start saving about any applicable fees and charges. Don't exceed your contribution caps and report funds received from the FHSS accurately on your tax.
Other than that, the earlier you start saving, the closer you'll be to owning your own home. Start comparing home loans today to get an idea of what's on offer and how much you can afford.